WHAT IS THE PILLAR® PROCEDURE?
The Pillar® Procedure is a simple, safe, effective and minimally invasive treatment for snoring and mild to moderate obstructive sleep apnea (OSA). Designed to provide lasting relief, the procedure can significantly reduce the vibrations of the soft palate, allowing both you and your bed partner to enjoy a restful night's sleep. For patients who are non-compliant or cannot tolerate the mask, this procedure may be an effective alternative to CPAP.
How Does The Procedure Work?
The Pillar® Procedure employs tiny woven implants that are placed into the soft palate using special instruments. Once inserted, the implants are not visible and they do not interfere with your normal swallowing or speech. Over time, the implants and the body's natural fibrotic response to their insertion stiffens and stabilizes the palate, reducing the excess tissue vibrations that cause snoring or lead to airway obstruction.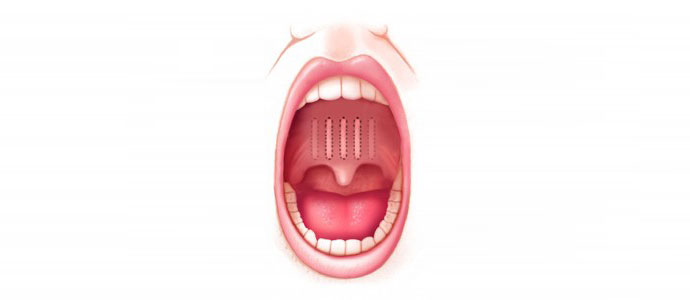 What Are The Benefits Of The Pillar® Procedure?
Highly effective at decreasing snoring intensity
Patients experience less daytime sleepiness and significant improvements in their lifestyle following the procedure
Bed partners report a satisfaction rate of about 80% with the reduction in snoring
Minimal pain and little to no post-procedure discomfort
Performed in one single office visit
No surgical removal of tissue or destruction of tissue
Most patients can resume normal diet and activity the same day
May be an effective alternative to CPAP
What Results Can I Expect From The Pillar® Procedure?
Most patients experience noticeable improvement in as little as a few weeks after having the procedure, while others may take up to three months to see the full benefit.
Patients report a decrease in snoring intensity and approximately 80% of patients see a reduction in their apnea hypopnea index (AHI). Additionally, after the procedure, most patients experience less daytime sleepiness and significant improvements in lifestyle. For patients who were former CPAP users with symptoms caused primarily by the soft palate, the Pillar Procedure typically delivers much better and longer-lasting results, which is why this procedure is often a popular alternative to CPAP.
Sinus Solutions: Perform Better, Stop Pain,
Sleep Deeply, Covered By Insurance