Click Here to see more patient review videos.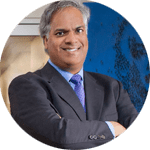 Dr. Pradeep K. Sinha
Atlanta sinus doctor, Dr. Pradeep K. Sinha, is Board Certified in Otolaryngology-Head and Neck Surgery, the study of ear, nose and throat, as well as Facial Plastic and Reconstructive Surgery. Dr. Sinha specializes in medical and surgical management of sinus problems. He was one of the first ENT specialists trained in Balloon Sinuplasty™ over 10 years ago and has performed more balloon procedures than any other ENT doctor in the Georgia.
To know more about Pradeep K. Sinha -- Click Here
You may follow Pradeep K. Sinha on Facebook: Pradeep K. Sinha and on Twitter: @Dr. Sinha